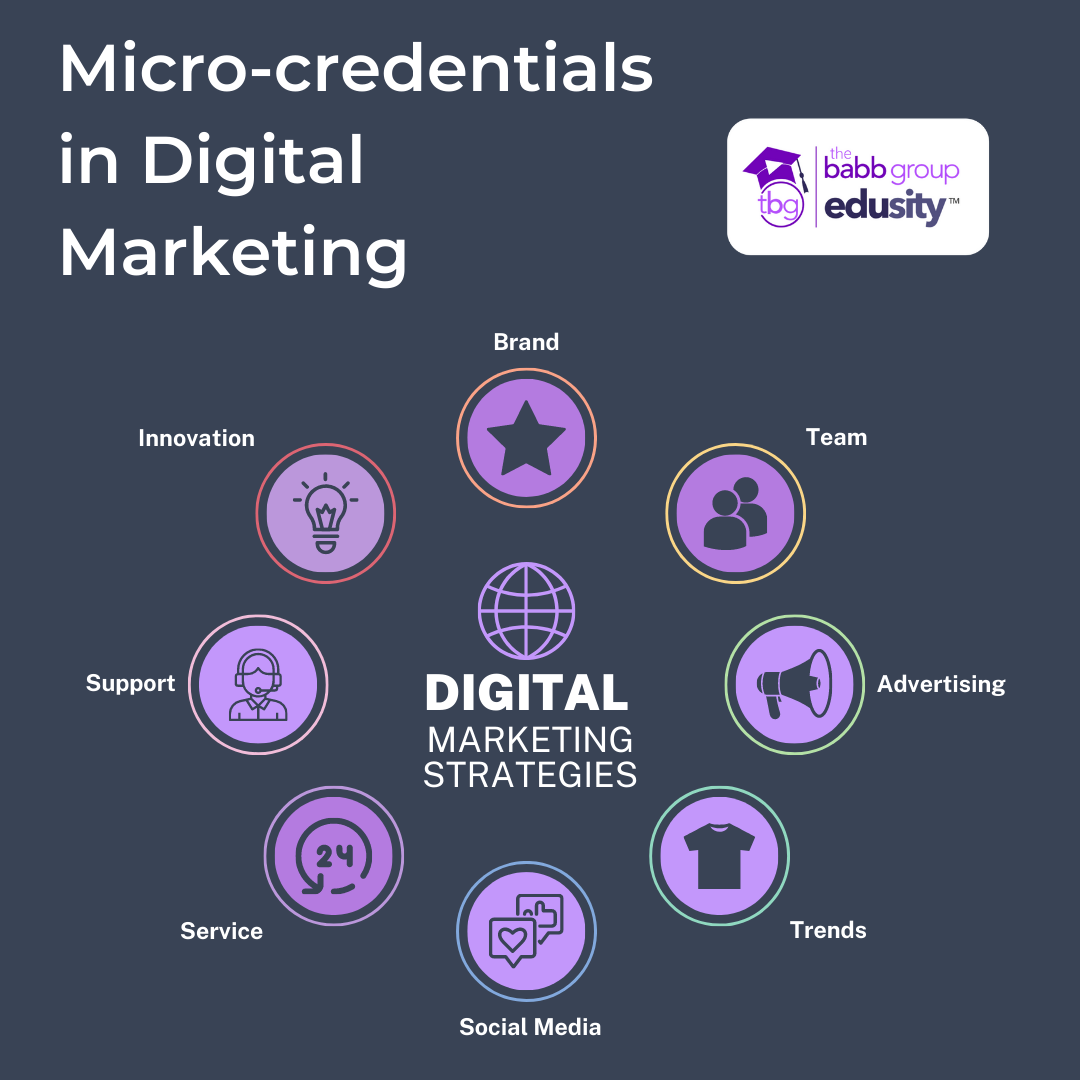 The demand for digital marketing skills continues to skyrocket. As businesses strive to stay ahead of the competition, they need professionals with skills in the ever-evolving field of online marketing. Micro-credential programs in digital marketing are a growing and valuable educational pathway. Let's explore the benefits of implementing micro-credential programs and how they can attract traditional and returning students to colleges and universities.
You might also like Designing Micro-credentials: What Every Higher Ed Administrator Needs to Know
Specialized and Relevant Skill Development
The call for skills-based education and employability upon graduation is growing. Micro-credential programs offer targeted and focused learning experiences. Students can acquire specific skills, such as social media marketing, search engine optimization (SEO), content marketing, data analytics, and digital advertising. Micro-credential programs are typically shorter and designed to offer practical, hands-on experiences students can apply to their jobs immediately. The specificity of these micro-credentials helps learners align their education with their career aspirations, making them highly attractive to prospective students and employers.
Flexibility and Accessibility
Micro-credential programs are designed to be flexible, accommodating the needs of working professionals, recent graduates, and lifelong learners. Offering these programs across modalities, including fully online, hybrid, and in-person, makes these programs appealing. Working students can upskill quickly without committing to a long-term academic program. Offering micro-credential programs in digital marketing allows colleges and universities to reach a wider audience who needs to balance continuing education with their careers and other commitments.
Industry-Relevant Curriculum
Digital marketing is a rapidly-evolving field, and traditional academic programs may struggle to keep up with the pace of change. However, micro-credential programs can quickly adapt and update their curriculum to reflect the latest trends and technologies in the digital marketing industry. Colleges and universities can collaborate with industry professionals and experts to ensure that their micro-credential programs provide up-to-date knowledge and skills. This alignment with industry demands enhances the employability of graduates. It strengthens the reputation of educational institutions as hubs of practical knowledge.
Career Advancement and Employability
Career advancement is a crucial motivator for people seeking digital marketing education. Micro-credential programs empower students to acquire high-demand skills. Credentials in digital marketing look impressive on a resume and social profile. Employers are looking for these skills and to hire lifelong learners who demonstrate their commitment to upskilling to meet the demands of a job. Colleges and universities that offer micro-credential programs position themselves as institutions that foster career-oriented education, attracting ambitious students eager to gain a competitive career edge.
Cost-Effective and Time-Efficient
Micro-credential programs are often more affordable and faster to complete than traditional degree programs. Students can focus solely on the skills they need to acquire, saving time and money. This affordability makes digital marketing education accessible to individuals who may not have the time or money to pursue longer academic programs. By offering micro-credential programs, colleges and universities can cater to a diverse range of learners, including those who are cost-conscious or seeking a quick return on their investment.
Micro-credential programs in digital marketing provide a win-win situation for both students and educational institutions. They offer specialized, relevant, and practical skills, equipping learners with the tools to excel in the digital marketing industry. For colleges and universities, these programs attract students by offering flexible and accessible learning options, industry-relevant skills, boosted career prospects, and cost-effective educational opportunities. By implementing micro-credential programs in digital marketing, educational institutions position themselves at the forefront of digital marketing education and prepare their students for success.
The following two tabs change content below.
Angela Britcher
Angela Britcher is an instructional designer and content creator with The Babb Group. She is also an adjunct professor of business and communications.
Latest posts by Angela Britcher (see all)